Mission
WELCOME to the Program on Constitutionalism and Democracy (PCD) at the University of Virginia.
Our mission is to promote scholarship and undergraduate teaching that are informed by political theory and by the political science of the American Founding. Since its founding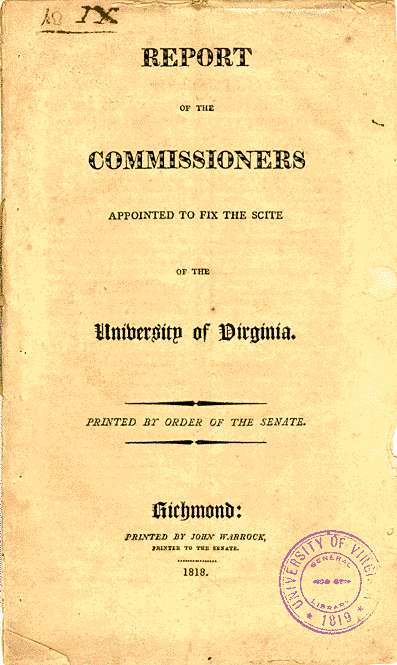 in 2006 by Professor of Politics James W. Ceaser, PCD has sought to revive the spirit and intent of Thomas Jefferson and James Madison's "Rockfish Gap Report" (1818), which recommends a curriculum of political studies for higher education that is designed to foster an enlightened body of citizens for a liberal democracy. We regularly offer two undergraduate courses, open to all students in the University: American Political Tradition, and American Political Economy. Over 1000 students have enrolled in the program's landmark American Political Tradition course since it was first offered in 2006, and several hundred have taken American Political Economy since it was added in 2014. Both courses are offered every semester and take place in a small seminar setting. Their emphasis is on close-reading and discussion of important texts and documents.
PCD sponsors a series of 6-10 guest lectures each year. These lectures are an integral part of the American Political Tradition course, with each speaker addressing a joint meeting of the several sections of the course on a topic that is a part of the regular syllabus. PCD's guest lecturers come from outside the University and are leading experts in American politics, political theory, American history, and public policy.
We also support advanced scholarship that focuses on the philosophical foundations of liberal democratic government and on constitutional and institutional issues related to the American Founding and the development of the American political system. Each year, we support residential postdoctoral fellows who pursue their own research, serve as instructors in our undergraduate program, and occasionally offer advanced seminars in political philosophy and American political thought. On occasion, PCD has also supported advanced scholars on sabbatical leave who wish to conduct research at the University of Virginia.
Since its inception, PCD has made a significant effort to disseminate the courses developed under its auspices. The program's inaugural year (2006-2007) was funded in large part by a curriculum development grant from the National Endowment for the Humanities, which encouraged the sharing of sponsored curricula. Versions of the program's American Political Tradition course have been offered at a number of colleges and universities, including Emory University, Middlebury College, Boise State University, the University of Montana, the University of Houston, Louisiana Tech University, Christopher Newport University, and the City University of New York. We hope that the American Political Economy course will prove an equally attractive model for undergraduate education.